After a week that started with abundant sunshine and comfortable temperatures, the building heat and humidity made for the perfect fuel for thunderstorms, some severe in nature, to fire up across parts of southern and eastern Ontario through Thursday. Friday will offer a brief break from the oppressive humidity and storms before the risk returns to start out the weekend across the region. More on Saturday's thunderstorm threat below, plus a look at how Tropical Storm Barry could add influence to our weather next week.
Summer revealed! Visit our Complete Guide to Summer 2019 for an in-depth look at the Summer Forecast, tips to plan for it and much more
---
WEATHER HIGHLIGHTS:
A few scattered showers and thunderstorms continue for areas north and east of Lake Superior on Friday
More widespread thunderstorm risk across southern Ontario on Saturday, stronger storms closer to the Ottawa Valley
Spectacular sunny Sunday before building humidity, Tropical Storm Barry influence next week
Stay up-to-date on the ALERTS in your area
---
WATCHING THE WEEKEND STORM RISK
Weather conditions aligned perfectly for severe thunderstorms to develop across parts of southern and eastern Ontario on Thursday as periods of heavy rain and strong winds swept through the region. By the late evening hours, Environment Canada issued a brief tornado warning for parts of the northwest as a line of storms located near Oak Lake moved quickly to the southeast.
A few scattered rain showers and thunderstorms will linger for areas north and east of Lake Superior on Friday, otherwise making for a much more comfortable, less humid and dry day across most of the region.
THUNDERSTORM THREAT RETURNS
By Saturday, the heat and humidity will build once again with the risk for a passing thunderstorm during the afternoon hours in southern Ontario.
"Most of the region won't see any rain on Saturday, but any storms that do develop will produce gusty winds and heavy downpours," warns Weather Network meteorologist Dr. Doug Gillham.
Stronger storms will once again take aim at the Ottawa Valley and southern Quebec, with a severe risk stretching into parts of southwestern Ontario on Saturday as well.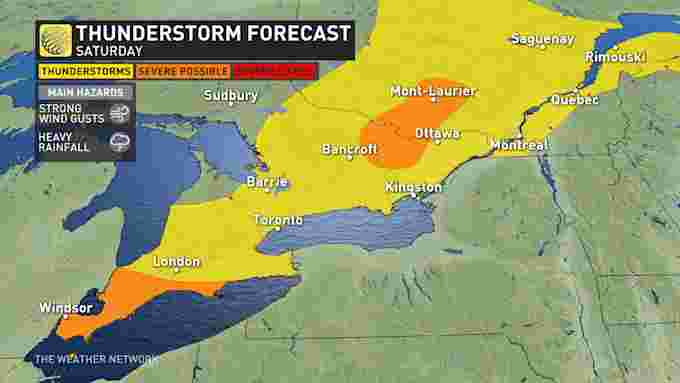 Expect the glorious summer conditions and lower humidity to return once again by Sunday before we see a longer stretch of more extreme heat well into next week.
PROLONGED STRETCH OF HIGH HEAT, HUMIDITY (BUT WITH A CATCH)
"Tuesday and Wednesday will bring increasing heat and humidity with high temperatures reaching the lower 30s and the humidex soaring into the lower 40s," Gillham says.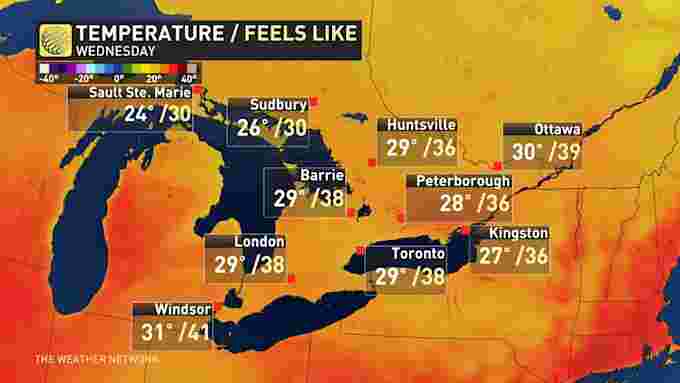 There is a potential complication to this expected heat wave however — the uncertain track for the remnants of Tropical Storm Barry. Barry formed as a tropical storm in the northern Gulf of Mexico on Thursday and is expected to become a low end Category 1 hurricane before making landfall along of the coast of Louisiana early Saturday.
"While hurricane force winds are possible for a small stretch of the coastline, the big story with Barry will be the flooding as the slow storm motion will bring 300+ mm of rain to parts Louisiana and possibly into Mississippi," Gillham says, adding that flooding in the New Orleans area is a huge concern, especially since the Mississippi River is already running exceptionally high through this region.
EYEING POTENTIAL INFLUENCE FROM TROPICAL STORM BARRY
Forecasters are closely watching the track of Barry, as the remnants from this tropical cyclone could move close enough to the Great Lakes region, increasing the cloud cover and threat for thunderstorms through the middle of next week.
"This would keep temperatures from getting as hot as they would be otherwise on Wednesday and Thursday in southern Ontario, but we will still have a high humidex due to the tropical moisture," Gillham says.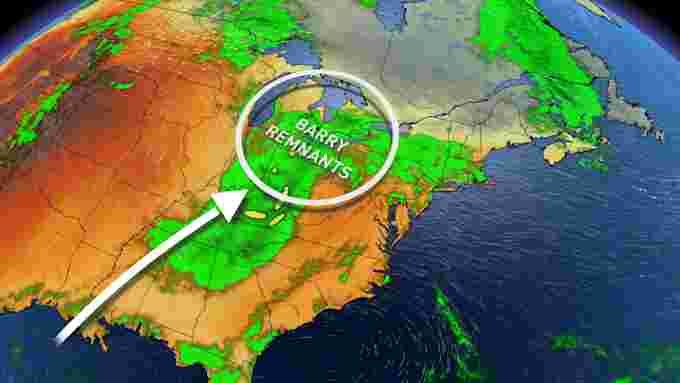 RELATED: Five horrible things extreme heat does to the human body
Earlier this week and before Barry formed, some forecast models were predicting temperatures well into the mid to high 30s for next week with humidex values into the 40s. Still, the muggy weather will dominate right through next weekend and into the following week as well.
"However, at this point, it looks like cooler weather (near seasonal) will arrive for the last seven days of July," Gillham adds.
WATCH BELOW: WOULD YOU SWIM IN LAKE ONTARIO AT A TORONTO BEACH? WE ASKED THE PUBLIC
Original Source